About us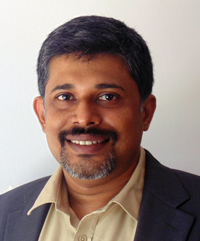 Customer Relationship Management Expert, Rajesh Rajah, is an accomplished trainer and consultant with over 2 decades of professional excellence in Service Excellence, Relationship Management and Sales Force Management. He is a sought-after Learning and Development expert who is often called on to consult organisations ranging from small family businesses to reputed blue chip companies for organisational transformation. His clients include companies from sectors as diverse as Media, Retail, BKFS and Insurance.
During his illustrious career, Rajesh has conducted hundreds of workshops and has facilitated organizational and team success by coaching and developing cross-functional professionals at all levels, from entry level employees to Department Heads. At every workshop and consulting engagement, he gives specific insights borne out of years of experience in the field and thereby empowers the participants with powerful people (and self) management techniques.
The first sixteen years of Rajesh's career were devoted to the Banking and Finance sector (BFSI) with Banking corporations like ICICI Bank and Times Bank where he served in areas like Business acquisition, Credit Risk Management, Relationship Management. In those roles, he leveraged his relationship management, selling and people skills to build cohesive teams, resolve conflicts, and drive the organisations' strategies.
While serving as the Head of NRI Business in Dhanalaxmi Bank he got exposed to the international banking scenario, all of which he has been successfully leveraging in his consulting career. In 2010, Rajesh decided to embark on a full time career dedicated to consulting and process facilitation in the areas of Learning and development and Organisational transformation interventions.
With strong academic and research linkages, Rajesh is a visiting faculty in many business schools where he conducts full courses and academic workshops.
Rajesh holds a Master's Degree in Management from the prestigious T.A Pai Management Institute (TAPMI) Manipal after graduating from Maharajas College, Mysore.